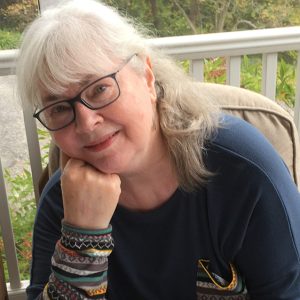 Carol E.R. Collins, a native Baltimorean, is a writer, singer, composer, researcher, and explorer of ideas for the young and old. As an M.M. student in Musicology at Peabody Institute, she is researching the musical dimensions of Euripides' plays. This is a development of her capstone project at Towson University, where she obtained a B.S. in Music (2019) after receiving an A.A. in Music at Harford Community College (2017).

She has performed in choruses in Maryland, California, and France, including appearing as a Shepherdess in the opera Amahl and the Night Visitors (2013). She wrote the book, lyrics, and music for Baltimore Crazy Quilt (2010), from which scenes were performed in San Francisco (2015). A reviewer wrote that the musical "dealt with Alzheimer's and its devastating attack on the self with touching grace." Ms. Collins earned a Ph.D. in English from the University of California at Berkeley (1986) and taught undergraduates there.

Dr. Collins' poetry, essays, and children's book reviews are published. Recently, she composed music and sound effects for the Octopus Tag Movie (2019) based on a video by Ken McMurray while scuba diving near the Catalina Islands. She composed an oratorio (2020) setting the words of Oscar Wilde's children's story, The Happy Prince. She currently studies ancient Greek in the Classics Department of The Johns Hopkins University, so as to read and ponder the ancient Greek texts of Euripides and commentators on ancient Greek music and poetry. More information on Carol's work can be found at www.cercolmuse.com.