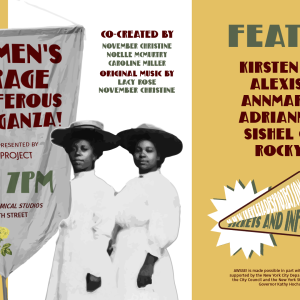 Artistic Collaboration, Activism, and the Classical Singer
Oct. 26, 2021 - by Noelle McMurtry

With a mission to approach the women's suffrage movement from an intersectional perspective, The Pleiades Project team decided to create and produce a new music-theater work, exploring the successes and failures of this milestone event in American history. After being awarded a generous Community Engagement Grant from Lower Manhattan Cultural Council in April of 2020, A Women's Suffrage Splendiferous Extravaganza! was born. With the addition of November Christine (Co-Creator, Writer, Lyricist, and Composer) to our creative team, we tackled the initial stages of developing a new music-theater work...