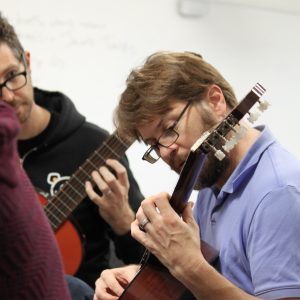 Instructor: Sean Brennan
Dates: Tuesdays, June 22 through July 27, 10:30- 11:30 am EDT
Fees: $219.00
Class is full

PD Strummers is a unique program for people with Parkinson's disease.

The course develops essential principles of guitar technique, fundamental musical skills, and builds musicianship through ensemble-based repertoire. When immersing in PD Strummers, participants' attention moves away from illness and focuses the mind on music-making that elevates the mood and spirit. Learning and playing together in the group has helped increase participants' rhythmic movement, understanding of the instrument, and confidence of emotional expression, while cultivating a sense of community.

This course was developed through the generous support of a Dean's Incentive Grant from the Peabody Institute of the Johns Hopkins University. Reduction in price made possible with the help of donor support.