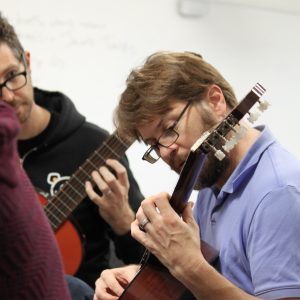 PD Strummers Performance Ensemble
Instructor: Sean Brennan
Dates: Tuesdays, June 21 through July 26, 10:30- 11:30 am ET
Location: Towson Campus
Fees: $226.00

PD Strummers is a unique program for people with Parkinson's disease.

The Strummer's Performance Ensemble expands on the skills learned in the Strummer's Circle, with an emphasis on collaborative music-making. Students enrolled will participate in group technique workshops and rehearse ensemble pieces in a variety of styles.