Handpicked, From China
If you look up the word "multitasking" in the dictionary, there may well be a photo of Sam Matthews (BM '02, MM '05, cello). Cellist in the Shanghai Oriental Sinfonietta, music director and founder of the Shanghai International Youth Orchestra, music lecturer at the Fudan International School, and instructor of the cello and violin, Matthews is also the purveyor of fine string instruments from China. The path that led him to this varied and vibrant musical life in the Orient is quite an extraordinary one.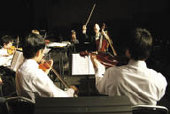 Matthews grew up in the small town of Springfield, Missouri, where he inherited a passion for music from his parents, who were both amateur musicians. At the tender age of 4 he picked up his first Suzuki violin; by 15 he had become a talented artist playing in major music festivals. Around that time, he decided to switch from violin to his other love, cello. He excelled, so much so that he astounded his family by leaving high school early to study with Steven Elisha in Topeka, Kansas. It was Elisha who suggested Matthews continue his training at Peabody.
Matthews would go on to earn a BA and an MA in cello performance, studying cello under Mihaly Virizlay and Amit Peled and conducting under Gustav Meier and Harlan Parker. But success didn't come easily. Early in his freshman year the cellist developed tendonitis, a nerve condition that would plague him from that day forward. It was the counsel and guidance of his mentors at Peabody that helped Matthews to continue, and to study not just cello but also conducting. He was able to return to limited playing, traveling to perform in places such as Singapore.
In 2006, the nerve damage worsened and Matthews feared the worst. Instead of abandoning his dream of playing, he redefined his musical career. Realizing that his ailment would curtail his ability to perform in a symphony, he moved to Shanghai to become the orchestra director for Fudan, a prestigious international school. Soon, Matthews developed a schedule where he could not only teach and lead an orchestra of young musicians, but also hold private studio sessions and continue to play cello. He also launched Instruments From China, a business for which he handpicks and sells fine violins, violas, cellos, and basses to musicians around the globe.
A teacher, a musician, a conductor, a businessman—Matthews wears many hats. And he's added a new title to his résumé: husband. Matthews recently married his fiancée, Emily, in a ceremony in Xiamen.
—Elizabeth Evitts