Coming Full Circle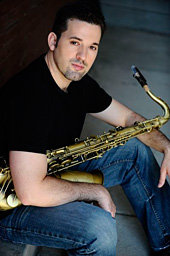 Jacob Yoffee (BM '02, Composition; GPD '04, Jazz Saxophone) came to Peabody as a freshman composition student with a goal to move to Los Angeles and become a film composer after graduation. Shortly after his arrival he heard Gary Thomas, Peabody's director of jazz studies, play. Yoffee says it was the "most incredible sound" he'd ever heard. He then became one of the first students to be a part of the brand new Jazz Studies Department at Peabody. This was the start of a 10-year career as a jazz saxophonist.
Yoffee leads his own quintet, the Murray Avenue Jazz Initiative, and his four-piece electric group, Metaphor. He was signed to Inner Circle Music Records in 2007, and his debut album, Dead Reckoning, garnered an article in The New York Times and a cover feature in Saxophone Journal Magazine. He's also been a member of Darin Atwater's Soulful Symphony and the Pittsburgh Jazz Orchestra.
What Yoffee didn't realize was that during his time at Peabody and performing jazz, he was building a foundation that would support his long path to achieving his initial goal. He is now a concert and film composer based in Los Angeles. He is resident composer for the American Studio Orchestra and has scored 11 independent features, including Sinking Sands, an African film that was nominated for Best Score of 2010 at the Ghana Movie Awards.
At the end of 2011, he completed scoring Olive, the first feature film that was shot entirely on a cellphone. He is now working on composing a horror feature, which he says is a lot of fun. "You get to pull out all the stops and really go big," Yoffee says. In horror, he says, you can bring in all kinds of instruments that you wouldn't use in a drama, for instance.
Right now, having a career as a saxophonist and a film composer is a difficult balance. Yoffee has more films than he can handle and works 12 to 16 hours a day composing, leaving little time to perform. He will, however, return to Peabody to perform in the Jazz Department's 10th anniversary concert at 7:30 pm on Wednesday, May 2, in East Hall. He says he's honored to have been a part of the growth of the Jazz Department and celebrate its accomplishments.
Yoffee says that as a mentor, Thomas was a huge influence. For his part Thomas says "Jacob was one of the best students that I've ever had at Peabody. When I think of him, the first word that comes to mind is 'integrity.' I don't have children, nor do I plan to have them, but I have to say that if I were to have a son, I would like for the model to be Jacob."