She Finds Energy in Jazz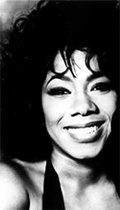 She's a jazz singer. She's a pop singer. She's a backup singer. She's a soloist. She's a teacher.
But most of all, Gabrielle Goodman (BM '90, Voice), associate professor of voice at Berklee College of Music in Boston, is a risk taker. "I've said yes to many things not knowing how they'd turn out," says Goodman. "And they've turned out well."
Her journey started in the 1980s when she transferred from Oberlin to Peabody because she was "frustrated with the lack of a good jazz scene." As a Baltimore native, she knew Charm City had what she was looking for. And she'd studied at Peabody Preparatory as a teen, so transferring to the Conservatory was a comfortable choice. Here she studied with Alice Gerstl Duschak, singing "classical arias during the day and jazz in clubs at night."
"Madame used to give me these ridiculously hard pieces," says Goodman. "I'd think, 'There's no way I can do this.' And she would encourage me and say, 'This is how you do this, this is how you do that.'"
Goodman was only into her second year of study at Peabody when she received a life-changing call right before finals. Could she be in New York the next day? Roberta Flack was looking for a backup singer.
Goodman didn't hesitate. She learned the music, got the job and … hit the road with the pop diva. This set up a pattern of touring and studying. Carrying her books with her so she could study while traveling from gig to gig, she returned home to Peabody for lessons and to take exams.
"I'd get off a plane and go to a lesson," she recalls. She eventually studied with Gordon Hawkins after Madame Duschak left Peabody, and earned her degree in 1990, happily walking across the stage to grab her diploma before heading out on tour once again.
Since then, she's sung backup with Michael Buble and Chaka Khan, recorded a jazz CD, performed with jazz groups throughout Europe and Asia, as well as with symphony orchestras, and offered lectures and workshops on subjects like jazz improvisation.
One of those lectures was at Berklee College, where she presented a program on vocal technique for jazz singers. She went on to teach for a summer at the college and was hooked. "I loved the energy there," she says. She's now been at Berklee 10 years, leading nascent singers down the same paths she herself has trod.
Jazz, Goodman is happy to note, is becoming more accepted in the classical world with prominent conservatories like Peabody and Juilliard both now offering programs.
Goodman is comfortable in either milieu because she grew up in a family of classical and jazz musicians. Her father was a jazz trombonist. Her mother was trained as a classical singer. Aunts and uncles were classically trained as well, while her brother is a bassist playing with jazz ensembles. When it came time to do her senior recital at Peabody, in fact, Goodman included a jazz set in the mix of lieder and art song and opera arias. Her brother played piano in the quartet.
So what is Gabrielle Goodman?
"If I absolutely had to label myself, I'd say I'm a jazz singer," says Goodman. "I don't say classical singer. I say I'm a singer who can sing classical music."