Star of the Soundtrack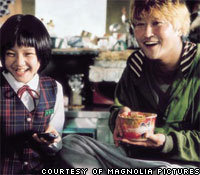 There is a moment in the Korean-made horror film The Host, a favorite at the 2006 Cannes Film Festival, where the main characters are running for their lives from a mutated sea creature. The dialogue goes silent and all you can hear is the music. The actors move in slow motion, the music swells, the creature gets closer…during a screening at the Charles Theatre in Baltimore, the audience was on the edge of their seats.
The Host's impeccable soundtrack was created by Korean-born Byeong Woo Lee (GPD '98, Guitar), who earned the Korean equivalent of an Academy Award for the score. The talented classical guitarist is now one of the most sought after film soundtrack producers in Korea.
Born in Seoul in 1965, Lee grew up listening to his older brother play the guitar. Sometimes Lee would sing along as his brother played, and one day Lee's mother suggested that he take lessons as well. "I said, 'Well it sounds better than taking math lessons,' and that's when I started to play," he says today from his home in Korea, adding, "I still remember that special moment when I touched the strings with my finger and played a chord."
After gaining success as a pop musician in his early 20s, Lee decided he needed more formal training and he went to Europe to study at the University of Music and Performing Arts in Vienna. In 1998, he traveled to the United States to continue his studies at Peabody. It was here, Lee says, that he found his musical voice. "For me, Peabody was the best place," he says. "I had a chance to meet many wonderful guitarists from other countries, and as a foreign student, I experienced so many wonderful sides of America."
But it was his relationship with professor Julian Gray that had the biggest impact on his work. "A school is only great as the teachers and for me, that teacher was Julian Gray," he says. "He was the best teacher I have ever met. We talked about life, love, and art. I always felt like my battery was recharged after we talked or had a lesson together."
In 1998, Lee became the first classical guitarist to earn the 1st Place Award in the Yale Gordon Competition.
While he was abroad studying, Lee agreed to have his guitar music appear in many Korean short films. "I am glad I had allowed that to happen because when the time came for the directors to do feature films, I was asked to make film music," he says.
Today his music can be heard in films and commercials and he is starting to score music for video games as well. While he loves performing, Lee says that he cherishes the opportunity to work solo in the studio. "It is the most beautiful time," he says. "I can't compare it with anything."
—Elizabeth Evitts