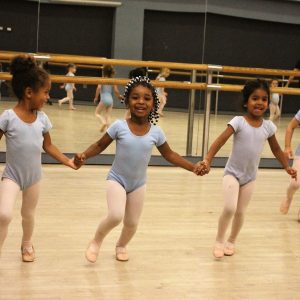 Young Children's Program (ages 3-6)
The Young Children's Program is designed to spark innate creativity and to begin to build a foundation for more in-depth technical training. This one-class-per-week program offers two levels of training for children. Creative Dance for 3 and 4 year-olds sets a strong foundation for more formal dance study by strengthening movement/locomotive skills and flexibility and by stimulating rhythmic awareness and expressiveness. Introduction to Ballet 1 and 2 for 5 and 6 year-olds, approach basic fundamentals of ballet (placement, port de bras, footwork and simple vocabulary).

All classes require a minimum of eight students, and all new 3-year-olds and 6-year-olds must take a placement class.

New 4-year olds should register for Creative Dance (4 Years); new 5-year olds should register for Introduction to Ballet 1. Placement is not required for these classes.