The Man for Tough Times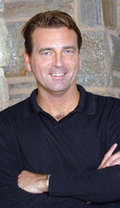 The Pasadena Symphony Association (PSA) was in dire financial straits when leaders there turned to Paul Jan Zdunek for help. After some initial consulting, he says, "The PSA asked if I would serve as CEO to assist them with a complete reorganization." Zdunek (BM '91, Composition) assumed that post last December, and in the ensuing months has taken dramatic—and successful—measures to turn around the fortunes of the California arts organization.
Zdunek had already proven himself a wunderkind in the world of financial crisis management after righting the struggling Modesto Symphony Orchestra. As president and CEO there from 2003 to 2008, he expanded the orchestra's operational budget by 60 percent, boosted earned revenue by 65 percent, and created a budget savings of 30 percent.
But Zdunek's larger impact at Modesto went well beyond the bottom line, through his commitment to engaging the orchestra more fully with the community. In a wide-ranging effort to make concerts more accessible to a broader audience, for instance, he established the Sound Check program, which allows students to purchase a $30 card that allows admission to all Modesto Symphony classical concerts. He also completed the full incorporation of a youth orchestra, sponsored by the orchestra's association, and launched a singing contest that drew 150 local children to compete for the title of Young Idol. Under his tenure, the orchestra also saw moves to more enticing—and acoustically improved—performance venues. Zdunek took a lead in restoration efforts of Modesto's historic State Theater, where the MSO has presented chamber concerts, and oversaw the orchestra's transition to its new home at the Gallo Center for the Arts.
In Pasadena, Zdunek plans to draw on some of these earlier successes (including the Sound Check program) and put the ailing PSA on sound financial footing by balancing its budget by September 2010. To save money and attract greater audience attendance, Zdunek aims to institute programming that is artistically satisfying, significantly marketable, and fiscally responsible. He also prescribed an aggressive marketing campaign aimed at boosting revenues from ticket sales and contributions to a 50-50 percent level, up from the previous 28-72 percent mix. In fundraising, expensive galas have been nixed in favor of smaller, more intimate affairs. And over the summer, Zdunek made local headlines when he announced an impressive new venue for the Pasadena Pops Orchestra: the expansive lawn adjacent to the Rose Bowl.
"I love figuring out business solutions. It's much like analyzing a score to deliver the most compelling performance," says Zdunek, who successfully pursued a career in conducting. After earning his bachelor's in composition from Peabody and his master's in orchestral conducting from the Cleveland Institute of Music, he served as artistic director for both the Greater Baltimore Youth Orchestra and the Greater Twin Cities Youth Symphonies, with additional guest conducting appearances, including the Saint Paul Chamber Orchestra. Additionally, Zdunek teaches Human Resource Management for the Master of Arts Administration program at Goucher College in Maryland and is a consulting partner with Decision Support Partners, Inc., serving arts organizations nationwide.