Conducting Chamber Music on a Grand Scale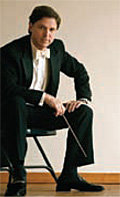 Mark Mandarano has conducted on some of the biggest stages across the country—including Lincoln Center in New York City and the Kennedy Center in Washington, D.C.—and was recently named the principal guest conductor for the Moscow Chamber Orchestra. But he's also a maestro much closer to home…in Riverdale, N.Y. Two years ago, he founded the Sinfonietta of Riverdale, a group of 10 to 20 classical musicians who perform a variety of classical works at a Riverdale temple. The idea for the group was born when Mandarano was chatting with fellow parents at the Riverdale Nursery School. All lamented the fact that they didn't often get downtown for cultural events. Inspired to find a solution, Mandarano recruited a group of professional musicians and the Sinfonietta was born.
"The rewards are manifold, but what stands out, of course, is the artistic result," says Mandarano, 43. "With this small group, where every musician plays an individual part, it's chamber music on a grand scale. Every musician is a soloist and the quality of these musicians, their creativity, and insight into the musical phrases just knocks me out!"
He continues, "There is a surprising breadth of repertoire for an ensemble like this, and what I most enjoy, outside of performing, are the challenges and rewards of planning the programs. For example, our program in December featured the music of two composers who are also famous conductors. We performed the chamber arrangement of Das Lied von der Erde by Mahler (the most famous conductor of his time) and alongside that, a piece by Esa-Pekka Salonen, Mania, for solo cello and ensemble." (The difficult cello solo, which Salonen has compared to "juggling chainsaws," was performed by Curtis Institute graduate Wilhemina Smith, Mandarano's wife; mezzo-soprano Theodora Hanslowe (AD '94, Voice) a Peabody alumna, performed in the Mahler selection.)
Noting that Salonen attended the December performance, Mandarano says, "It was a real thrill for us to be able to bring this superstar to our little neighborhood."
Mandarano, who began his music studies as an undergraduate at Cornell, where he originally planned to pursue a career in engineering, studied with Frederick Prausnitz at Peabody. "I had an immediate and instinctual connection with him and the way he thought about music," Mandarano recalls. "His is the kind of teaching that stays with you—the true power of what he gave to me continues to be revealed."
In the years since earning his master's in conducting, Mandarano has served as an associate conductor with the Westchester Philharmonic and the Pacific Symphony Orchestra in California. He is also the former director of the Festival Chorus at the Hoff Barthelson Music School in Scarsdale. Last season, he made his debut with New York City Opera at the VOX festival.
Mandarano's recent appointment with the Moscow Chamber Orchestra will undoubtedly mean some increased travel. Whether raising his baton in his own neighborhood, or on a stage halfway around the globe, he couldn't be happier.
"I wasn't one who dreamed of conducting from an early age," he says. "In my first 25 years, I learned to play three or four instruments, I sang, I wrote music, I wrote about music, I studied music history (I even tried engineering). I enjoyed all of that, of course, but when I started to conduct—the shoe fit. I started on this path and it's never stopped."