Renaissance Man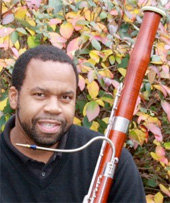 Bassoonist Bryan Young has been a frequent visitor to Peabody over the last several months. An alumnus with an active performance schedule, Young is also an accomplished mobile software designer. He merged both sides of his career when he created and launched Peabody's new mobile phone app last June.
Young, pianist Irina Kaplan, and oboist Vladimir Lande are founding members of the critically acclaimed Poulenc Trio. Recent appearances include the Ravello Festival in Italy, the San Miguel de Allende Festival in Mexico, and the Palaces of St. Petersburg Festival in Russia. Since its first season in 2003, the Trio has commissioned over 20 new works.
In addition to his musical activities, Young travels around the world designing mobile software for Intertwine Systems, a company he founded in 1999. Intertwine was recently awarded a large grant by the state of Maryland to develop iPad-based medical software for cardiologists, in collaboration with the University of Maryland and futurist Alvin Toffler. Young has also known individual success. He recently appeared on the front page of the Baltimore Business Journal as a "mobile software entrepreneur to watch." An avid sailor, Young is co-owner and chief technology advisor to SailTime, the world's largest fractional sailing company.
At Peabody, Young studied bassoon with Linda Harwell, receiving his B.M. in 1996. He then went to Yale, where he studied with Frank Morelli. A winner of the Gillet-Fox International Bassoon Competition, Young has performed as soloist with the Baltimore Symphony Orchestra and the National Symphony Orchestra. The Washington Post wrote that his playing "dances with a lightness and grace uncommon for his instrument," and The Baltimore Sun has praised his "particularly beautiful playing, technical agility, and understated elegance." Young serves as the principal bassoonist of the Baltimore Chamber Orchestra and is a member of the IRIS Orchestra in Memphis.
One of Young's key interests is teaching young chamber musicians to approach music making with an entrepreneurial spirit. With the Poulenc Trio, he has created a Chamber Music Entrepreneurs residency program that the Trio will unveil during an upcoming 20-city tour of the United States. The program will teach young professional musicians not just about commissioning and fundraising but also about the commitment and creativity needed to keep 21st-century audiences engaged. "I credit a lot of my success to the time I spent at Peabody, and I'm keen on helping to build audiences for its next generation of musicians." says Young.
Whether he's performing in Europe, designing state-of-the-art medical software, or enabling the sailing dreams of boat enthusiasts around the world, Young is certainly keeping busy. It was thrilling to work with such a creative entrepreneur in designing the Peabody app and we are grateful that he carved out time for us.