McCallum Celebrates a Golden Career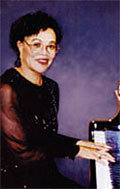 In the 50 years since Audrey McCallum graduated from the Peabody Conservatory with a bachelor's degree (BM '60, MM '67, Music Education-Piano), she's enjoyed a standout career as a music educator, pianist, accompanist, clinician, and an adjudicator, and has touched the lives of generations of students from all over the city and the state.
It was McCallum's talents as an accompanist that first drew her into the world of formal music studies. As a student at Dunbar High School, she regularly accompanied all the school choirs, as well as concerts for musicians all over the city. She also earned $15 a month as an accompanist for the students of Fannie Newton (a vocal instructor at the Baltimore Institute of Musical Arts, the school which enrolled black students when Peabody did not). "In those days," she says, "it seems like I was always at rehearsals or performing." One day, a passerby heard her practicing at home, she says, and suggested she take piano lessons with Miriam Sachs, an instructor at the Peabody Preparatory. Sachs accepted young Audrey as a private student at her home and eventually gave her a full scholarship to study with her at the Preparatory. McCallum became the first African American student to study at the Peabody Preparatory.
Upon graduation from high school in 1956, she received a Senatorial scholarship for study at the Conservatory—becoming one of the first African Americans students at Peabody. Senator Anthony F. DiDomenico awarded the scholarship; characteristically, she was away from home at a rehearsal, so her parents accepted it for her. The annual $600 scholarship covered the entire tuition at that time. In addition, the AKA sorority paid for her books for the four years. Julio Esteban was her piano teacher at the Conservatory. She maintained the scholarship all four years and graduated third in her class. Donald Regier (DMA '66, Instrumental Conducting), at the time the coordinator of music programs in Baltimore City schools, had come to know McCallum because of her visibility in high school, choral festivals, and concerts across the city. So when she graduated from Peabody, he tapped her to teach at some prime city high schools—first Dunbar, then City College, and finally Western High School, where she spent 26 of her 30 years in the city school system. She retired in 1990 as music department head.
Retirement didn't last long, however. At her retirement celebration in spring 1990, Nathan Carter (DMA '84, Choral Conducting) approached her and asked her to teach at Morgan State University. As a result, she started there just a few months later, in September. She currently teaches aural skills and vocal music education and has taught piano and keyboard harmony, as well. In addition to her work at Morgan, she teaches at the Nathan Carter School of Music. Her honors include "Women to Watch" (The Philomethians) the Religious Cultural Arts (Sharp Street Methodist Church), Women Making a Difference Cultural Arts (Sharon Baptist Church), and Cultural Arts Woman of the Year (Zeta Phi Beta Sorority).
She is a member of the Zeta Phi Beta Sorority, The Nathan Carter Foundation, The Top Ladies of Distinction, and Morgan Women, and serves on the Peabody Alumni Steering Committee and The Johns Hopkins Alumni Council.
Looking back a half-century, she says today, "I loved every minute of my stay at Peabody. I was a good student, it was prestigious, and I can take that with me everywhere."