Studio A
Rm. 220, Conservatory Building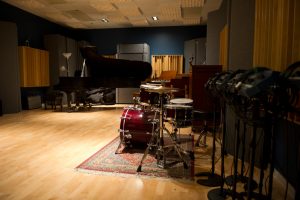 Studio A was designed by students in Peabody's Master of Arts in Recording and Acoustics program with guidance from Adjunct Faculty Member Dr. Peter D'Antonio of RPG Acoustics, Inc. Construction was completed by Recording Arts and Sciences undergraduate students during the summer of 1999, and with it's state-of-the-art Digital DPC console and digital multi-track recorders was one of the most comprehensive studios in any educational facility in the world. The studio was closed in 2002 during the Peabody Grand Arcade renovation and the equipment was reinstalled in a newly purpose built Studio 2002.
The Studio was reopened in January of 2004 with all new state-of-the-art equipment. Fully equipped with digital multi-track tape based and disc based recording with total automated mixdown facilities, it is linked to two of Peabody's performance halls as well as to the other three audio engineering control rooms. The console is a 96-input Neve 88RS.  The multitrack recorders and digital workstations are a large multi-channel Avid/Digidesign ProTools HD 3 system and a Pyramix Masscore system. Tracks can be mixed to or recorded directly to a Tascam DV-RA1000HD or Compact Disc Recorders.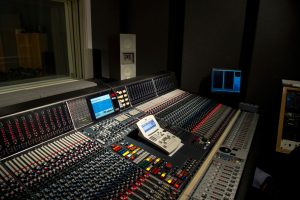 For video post-production, materials can be sent to Pro Tools and processed and tied to various software based video production systems. There are fiber optic routing paths thoughout the Peabody facilities with bandwidth capable of carrying both MADI and SDI signals. For monitoring, Studio A was outfitted with a world-class Lipinski Sound monitoring system in the fall of 2008. The Lipinski system, which is one of the most accurate studio monitor systems available today, consists of two Lipinski L-707 main speakers and a Lipinski L-150 subwoofer. A dedicated computer running Metric Halo's Spectrafoo software provides a full compliment of metering options for any type of situation.
Outboard equipment includes microphone preamplifiers by Millenia, Grace, and API as well as a comprehensive reverberation system from a Lexicon 960L.
Studio A is also equipped with several pieces of vintage gear including a pair of Lang PEQ-2's which were in place in the original Peabody Recording facilities in 1969, an authentic EMT 250 plate reverb, a UREI 1178 Limiting Amplifier, a stereo pair of UREI LA-4 compressors (modded by Eddie Ciletti of Manhattan Sound), and a TC Electronics 2290 Digital Delay.
In short, once again the Peabody Recording Studio A is the standard to which others aspire.
Studio B
Rm. 203 Conservatory Building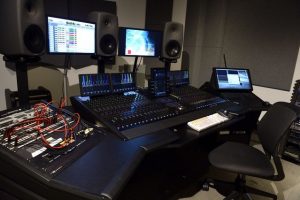 Studio B was rebuilt in the summer of 2007 and is Peabody's first control room to be centered around a Digital Audio Workstation. An Avid/Digidesign Pro Tools HD 3 system with a D-Command control surface provides Studio 203 with huge range of capabilities. A full 5.1 system consisting of Genelec 8260a DSP active monitors make the room an ideal environment for auditioning high resolution surround recordings and working with sound for picture. Outboard gear consists of microphone preamplifiers from D.A.V., an SPL Mix Dream, and a dedicated Spectrafoo metering system. Additional processing plug-ins from Waves, McDSP, Antares and Melodyne are also available.
Studio C
Leakin Hall Basement
The studio's console is a Sony Oxford OXF-R3. The multitrack recorders and digital audio workstations are an Avid/Digidesign HD3 system and a Pyramix Native system. Two channel recording is handled by two Tascam CD-RW2000 compact Disc Recorders, a Tascam DV-RA1000 high resolution DVD recorder, a Sony PCM-2600, and Tascam DA-60 timecode DAT deck.  The facility is also capable of full audio-for-video post-production with Apple Final-Cut Pro HD  non-linear video editing system. Audio Post and system lock is accomplished using a Timeline Micro-Lynx synchronizing system. the entire system is time code capable and is locked to house word clock. Processing in Studio 2002 includes: Sony DRE-777 Sampling Reverb, T.C. Electronic System 6000, M5000, M2000, Sony DPS-F7's, DPS-M7, DPS-V55, UREI LA-4's (modified by Eddie Ciletti of Manhattan Sound), as well as console internal Equalization, Gating, Compression and Filtering on all 120 input channels.
Studio D
Leakin Hall Basement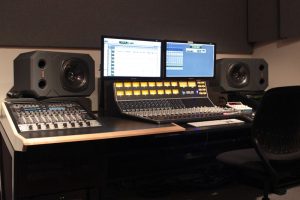 The Leakin Hall Studio Analog Mixdown Room was renovated by Recording Arts and Sciences undergraduate students during the summer of 1999. This room in the Leakin Hall Building houses a Sony MXP3036VF automated console and an Otari MTR-90 Mk II analog multi-track with Dolby SR noise reduction, and a Tascam MX2424 hard disc multi-track recorder. Processing in the mix-down room includes: T.C. Electronics Finalizer Plus, Lexicon 480L, PCM 90, PCM 80, Sony DPS-D7, DPS-M7, DPS-R7, Drawmer M5000 multi-processors, Drawmer DS201 gates, T.C. Electronics TC1210, Valley Electronics Gain Brain II's, Kepex II's, Commander's, UREI model 546 equalization, and DBX 180 Type I NR. Mixdown is to Sony APR-5003 timecode capable analog recorders with chase synchronization, Tascam CD-RW2000 CD recorders, and Sony PCM-2600 DAT recorders. A Spectrafoo metering system is utilized for in-depth frequency analysis and level monitoring.
Microphones
All Studios share one of the most comprehensive microphone collections found in any studio or other recording facility. Microphones include multiple Neumann M-147, M-149, and M-150 tube microphones in addition to the solid state KM84, KM85, KM86, KM140, U-87, TLM103, TLM170, TLM93, SM69 microphones. Additionally, there are Sennheiser MD-441, MD-421, MKH series 40, 20, 30, 8040, and 8020 microphones, AKG C-414P48, C-414TLII, C-414EB, C-4000B, "The Tube", and C-422 microphoness, Audio Technica AT-4050 mics, Beyer M-160, M-260, M-500, M-88 microphones., Coles 4038 ribbon microphones, DPA 4006TL microphones, Microtech-Geffell UM70, M300, M-296, and M-930 microphones, Royer R-121 and SF-24 ribbons, Schoeps Collette series Mk21 microphones, Josephson E22, as well as an extensive collection of AKG, Beyer, Electrovoice, Sennheiser and Shure dynamic mics.